"I have fished at a number of resorts around the world and I'm convinced this is the best value for money fishing tour I have experienced."

Prices until June 30th 2019
Transfer from Panama City
Package
4 Anglers
3 Anglers
2 Anglers
1 Angler
Nights
Days*
PC1
$3,163
$3,600
$4,475
$7,900
4
3
PC2
$3,900
$4,484
$5,650
$10,150
5
4
PC3
$4,637
$5,366
$6,825
$12,400
6
5
PC4
$5,375
$6,250
$8,000
$14,650
7
6
Please Note that there is a Fuel Surcharge if fuel prices rise above $3.50 per gallon (also note that rates do not include 10% Govt Sales Tax).
* Days represent lodging and actual days Fishing
Transfer from David Airport
Package
4 Anglers
3 Anglers
2 Anglers
1 Angler
Nights
Days*
DA1
$2,613
$3,050
$3,925
$7,350
4
3
DA2
$3,350
$3,934
$5,100
$9,600
5
4
DA3
$4,087
$4,816
$6,275
$11,850
6
5
DA4
$4,825
$5,700
$7,450
$14,100
7
6
Please Note that there is a Fuel Surcharge if fuel prices rise above $3.50 per gallon (also note that rates do not include 10% Govt Sales Tax).
* Days represent lodging and actual days Fishing
3, 4 ,5, and 6 day fishing packages available. You pick the days of the week. All trips are custom booked.
Same day arrival and departure is possible:
If your arrival flight into Panama City is at or before 1:30 pm you can get to us the same day.
If your departing flight from Panama City is at or after (12 Noon Mon-Sat)-(2 pm on Sunday) you can leave us and Panama same day.  We also have ground transportation available to expand our availability for same day travel.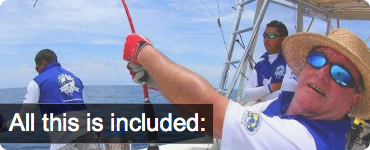 VIP Service upon landing in Tocumen airport. You will be met by a representative of Panama Big Game as you step off the airplane. They will assist you in immigration and escort you to the VIP lounge where you can enjoy a cool drink while your luggage is being collected and sent through customs.
All airport transfers and domestic flights.
A twin diesel sport fishing boat, top of the line sport fishing gear, experienced captain and mate, lunch and beverages on board.
Deluxe air-conditioned 600 sq. foot cabins. 46″Smart LED TV's and Blu-ray Players.
Hi-Fi System with iPod dock.
Free WiFi. Business Centre with State of the Art, Apple and PC Computers.
New Infinity pool with Spa and swim-up Bar.
All food and beverages with open bar served in your private clubhouse.
Views from your clubhouse will include the blue Pacific with many out islands, inter-coastal view with unbelievable sunsets and often Howler monkeys in the jungle tree tops.